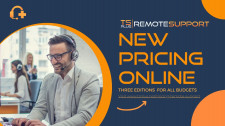 The recent release of the Remote Support V3.3 update packed the software with several new exciting features. To better reflect its positioning as a powerful yet budget-friendly Windows desktop session-sharing tool, TSplus has made some changes to its pricing strategy.
IRVINE, Calif., February 8, 2023 (Newswire.com) - On Tuesday, TSplus officially announced Remote Support's new offering: Prices have been scaled down to better fit customer expectations and market conditions. Since the launch of version 3 last November, the remote desktop control software has undergone numerous improvements, making it a formidable competitor of market leaders such as TeamViewer and Anydesk.
Remote Support now boasts a lite connection client, branding customization options, a simplified interface, zero installation, one-click connection, unattended access, and remote PC management, among other features. The latest update also includes screen recording and screen capture. Support for MacOS and Android is on the horizon.
This week's update offers extra settings to sort and organize known computers, making support more efficient for agents.
The full changelog can be consulted online.
To be more competitive, it was necessary to review the prices. Today, TSplus offers Remote Support on a SaaS (Software as a Service) model with three editions. For sake of clarity, the names were changed as well (voir screenshot):
Starter Edition: 1 concurrent connection, for $8 per month (billed annually)
Business Edition: 5 concurrent connections, for $30 per month (billed annually)
Corporate Edition: 10 concurrent connections, for $50 per month (billed annually)
The pricing page has already been updated, and current customers will receive an automatic six-month extension.
The latest version of Remote Support can be downloaded for free on the TSplus website. Get started with a unique remote support experience today.
Source: TSplus Corp
Share: