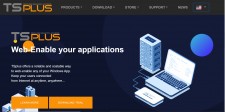 On Monday, June 1, TSplus will reveal the new look of TSplus.net. The redesign of the global website has been a major project over the last six months. Presenting improved navigation and integrating modern visual concepts, the new TSplus Website is part of a larger campaign to make the entire purchasing process as smooth as possible for customers.
PRAGUE, May 29, 2020 (Newswire.com) - ​​TSplus.net receives a complete face-lift.
The TSplus global web-site, tsplus.net, has been under renovation for months and is almost ready to show its new face to the world. This is the result of a collaboration between Marketing creatives, Sales leaders, Chief Executives and a couple of web agencies for half a year to make tsplus.net an attractive, intuitive and responsive platform. Organized by sections with colorful graphics, the pages display key information in summaries, keeping product lines well delineated (see screenshot).
Offering a new website to our visitors was a necessity. As an IT company, we want to deliver the best experience on all devices and show that we constantly look at new ways to share our innovations.

Olivier Benoit, President of TSplus
The site-map has been completely reorganized so visitors can find what they are looking for with a minimum of clicks. The main message easily stands out, facilitating quick and easy decision-making.
However, the same content is present: the visitor can go deeper into details of features and consult the documentation, by clicking on internal links.
TSplus.net was created shortly after the first version of TSplus. While the content has been kept up to date since that time, this is the first major refresh of how it is presented. Asked about his expectations regarding the new website, Olivier Benoit, the President of TSplus, commented: "Offering a new website to our visitors was a necessity. As an IT company, we want to deliver the best experience on all devices and show that we constantly look at new ways to share our innovations."
The New TSplus.net Integrated Store Simplifies Purchasing
The new TSplus.net comes with an additional upgrade - a new online store, fully integrated into the website. This should make life easier for potential customers as it is built to greatly reduce the number of necessary steps to purchase a complete package of TSplus solutions.
The store is displayed directly on the website itself, which avoids loading of another page. All editions and products are visible from the first sight with no need to scroll down, and options of the number of users clearly listed just below. Drop-down lists allow quick selection of the most adapted solution with only a few fields to fill by hand (see screenshot).
With just a few clicks, the visitor is able to reach the checkout. By decreasing the time spent on the Store, TSplus is hoping to decrease abandoned carts and to encourage customer purchase of the best offer for them without losing a minute.
Customers will have to stay posted on TSplus Social Media to discover the new website on Monday.
TSplus After-Sales Process Greatly Improved
TSplus' care for its customers' expectations is reflected in every step of its service. Proof will be with the soon-to-be-released version 14, which takes another step toward a more accessible, flexible and easy-to-use licensing process. The second generation of the TSplus License Management portal was launched in December 2019 (see the Press release here: TSplus Licensing Management Takes a New Turn).
It offers a dedicated personal space to customers, where they can consult data about their licenses including date of purchase, edition, number of users, price... The portal has also been a very useful tool to make TSplus technical Support even more effective, as it gives access to the most up to date customer information.
With the next major TSplus release, the Licensing portal will introduce more outstanding features to allow self-service actions on licenses, such as activation and rehost. That's not all. V14 will bring a whole new concept of licensing. Stay connected to discover it.
Subscribe to the TSplus email list to stay aware of their latest news.
Download TSplus V12.70 free trial version. Read the release note here.
Source: TSplus
Share: