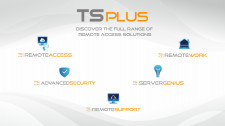 TSplus, the developer of the best alternative to Citrix and RDS for Remote Access, has announced the re-branding and unification of all TSplus products names, logos, and designs for a clear identification on the market.
IRVINE, Calif., May 6, 2021 (Newswire.com) - TSplus Asserts its Branding to Stand Out as a Provider of Remote Access Solutions
In November 2019, TSplus announced the integration of its line of companion tools under a common brand identity, "TSplus", to better reflect the company's identity.
Since then, many actions have been taken to reinforce TSplus brand recognition. Today, a new step has been made with a graphical alignment of all solutions, add-ons and new software to come. This is illustrated by modernized logos, icons and an overall updated way the range of products is presented and promoted.
"TSplus" which was originally the short for "Terminal Service Plus" and was designating the first and star-software of the developer, will henceforth be used as the main brand linking all derivative and related products under a common name, with a strong identity. It will therefore express the idea of an ecosystem of related solutions for remote access and network management. The history and long presence of the brand on the market for remote desktop and applications delivery solutions gives it a reliable character as well as a credibility on which the developer relies to promote the rest of its range.
This change coincides with the forthcoming introduction of a new product, "TSplus Remote Support".
In this spirit, the branding of all products has been updated to clearly reflect their offer and positioning:
The Remote Access category of solutions comprises: TSplus "original" software which becomes "TSplus Remote Access" - TSplus Virtual Printer - TSplus Remote Work
The Network Security category of solutions comprises: TSplus Advanced Security - TSplus 2FA
The Network Administration category of solutions comprises: TSplus Server Genius - TSplus Remote Support (coming soon)
TSplus Branding Identifies a Comprehensive Solution for Network Administrators
No matter the network infrastructure, the number of users, the location or the budget, TSplus has a solution which can fit and be deployed the most optimized way.
Except for TSplus Remote Work, which is its own robust Remote Desktop solution, all the solutions can be purchased and used as add-ons to enhance TSplus Remote Access solution. TSplus Enterprise PLUS edition, gathering all the great TSplus features and add-ons in one attractive and affordable package, was introduced in May 2020. No longer will organizations need to choose between security and management.
All included in one single setup, the multiple applications automatically integrate into TSplus Administration Tool for an easy and centralized management. It is the ultimate remote access solution for Windows, Mac, or Linux.
The branding may change, but the commitment to cost-effective, user-friendly and secure software solutions remains, and the technology upon which TSplus products are built will continue to be enhanced and applied to each operating segment.
Along with this refresh, the TSplus website has gotten a new look and is now able to deliver a much richer experience to visitors so that customers will more easily find their way in the TSplus universe. To learn more, visit tsplus.net.
Or download TSplus Remote Access for a 15-day trial. It includes a trial version of each add-on!
Source: TSplus Corp
Share: