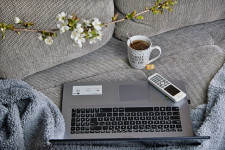 For the last two years, remote work has been a megatrend due to the pandemic. Even companies that have been reluctant to work from home have had to switch to teleworking during the crisis. However, remote working initiatives can't function effectively without the proper technologies. Application Delivery, Cybersecurity and Remote Support tools remain the most important for the success of remote workers.
IRVINE, Calif., July 28, 2021 (Newswire.com) - When the working world left the office to work from home in March 2020, employers and their IT teams were left trying to figure out how to make the transition as seamless as possible and give employees the technology they needed to work from home effectively. All industries and countries were affected by the necessary transition. And the trend is likely to continue in the long term with an increasing reliance on remote working services and solutions.
Giving the Best Tools to Remote Workers to Make Them Successful
After nearly two years of home working, businesses have a much better idea of what technology remote workers need - online access to apps and data. It is no surprise that server security and data protection come first, followed closely by the need for efficient remote support via screen sharing.
Unsecure personal hardware, high administration costs and a lack of client technical knowledge can make remote work a challenge for both end-users and IT admins.
TSplus offers the right pieces of technology to help remote workers stay productive and successful without risking their company's integrity.
Remote Workers Need Accessible and Efficient Remote Assistance
When employees are working in the office, IT support might be two rooms or floors away; any problem can be fixed within hours. This isn't the case in the home office.
Outdated hardware costs the user a lot of time, patience, and productivity, even when running simple office applications. Old and failure-prone PCs and laptops can turn into a nightmare for IT managers and admins. These bottlenecks reduce the work performance of remote employees.
TSplus Remote Support is a simple, comprehensive, and essential remote assistance software because only a well-maintained PC delivers secure and stable operation every day. Remote Support allows IT admins and Support Agents to remotely diagnose and remedy malfunctions and other defects at any time via screen sharing and remote PC control.
The Importance of a Safe Environment for Remote Workers
The transition to home office opens the way for hundreds of thousands of insecure severs, ports and cloud services being used by remote workers. Malicious hackers can discover these vulnerabilities, entering corporate networks and laying the foundations for cyberattacks including data theft, ransomware and other malware campaigns.
They exploit the reduced level of monitoring activity, while successfully compromising credentials - that are used to remotely log in to cloud services - provides a stealthy route into corporate environments.
Regardless of the industry, businesses require top security programs that can protect them from online breaches and hacking attacks. A remote office solution works best if providing the necessary firewall protection not just for one computer, but for everyone connected over the network.
TSplus Advanced Security reduces attack surface and minimizes corporate network risk, providing the necessary infrastructure that keeps everyone safe while everyday work continues. It is backed up by a team of cyber security experts that make sure it is updated with the latest security fixes, so the work environment is always safe from attacks. This includes Ransomware attacks, which constantly evolve in techniques and shapes.
Of course, every organization is different and different industries require different technologies and services, and that's why TSplus software is scalable and adaptable for every area: educational services, healthcare, financial activities, information, and professional and business services.
Visit the website to discover the full range of TSplus software, and to download a free 15-day trial of any of the TSplus family of products.
Source: TSplus Corp
Share: