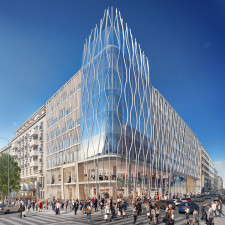 TSplus International s.r.o was founded several years ago in Prague to lead the international marketing strategy from the center of Europe. Recently, the company invested in new offices and extended its local team to give a push to the sales in the Region.
PRAGUE, May 20, 2022 (Newswire.com) - TSplus International, based in Prague, Czech Republic, is growing. The local branch of the software developer, in charge of the international marketing for TSplus, opened in 2013. The location has always been a very strategic position to develop sales and business relations with partners living in nearby countries such as Poland, Germany, Italy, Slovakia, Hungary, etc.
In fact, the success of TSplus products in this region of Europe has given the company the opportunity to move to brand-new offices. The headquarters are now located in a modern building that was recently built on the main avenue of the capital: Vaclavské Namesti. The premises are spacious, comfortable, and perfectly equipped for hosting professional meetings that reflect TSplus' values and ambitions.
In this region where the IT industry is very well developed and the potential customers are numerous, TSplus is proud to be able to welcome them in such a motivating environment.
TSplus Continues to Localize its Sales Force
Earlier in April, TSplus announced the opening of a local branch office in India led by a local Director to support the increasing demand in that region: TSplus India Private Limited.
Likewise, TSplus decided to hire local specialists and business developers to leverage the high potential of the market in Central Europe. David Dvorsky, Czech citizen from birth and proficient businessman with a Tech background when he is not presiding over GIOBA, an organisation that offers highly educative programs for American students, has been chosen to lead the development of TSplus sales in Czech Republic, Slovakia, Hungary, Roumania, Bulgaria and Serbia in collaboration with TSplus' Eastern Europe Director, Andrzej Krystaszek. His son Daniel works by his side to ensure localized Sales communication.
To support David in this enterprise, TSplus has sent to Prague François Duriez, a French native. His two-year mission is to gather prospects and grow the TSplus reseller network in the region by traveling to Budapest and Bratislava and by building a localized and relevant marketing strategy that is already bringing encouraging results.
To become a TSplus partner in Central Europe, contact David @david.dvorsky@tsplus.net
Download and Test any TSplus Product - Free for 15 days.
Source: TSplus International
Share: