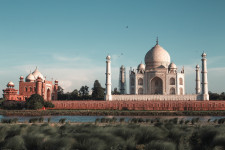 Based on years of organic growth in India, The TSplus Team decided to fully invest in this high potential market by incorporating a local entity: TSplus India. Read on to know more about this important action which opens a lot of business opportunities.
IRVINE, Calif., April 6, 2022 (Newswire.com) - TSplus has been selling its suite of remote access and server security software in and around India for the past decade and has received a positive market response supported by a sustainable network of resellers. The TSplus South Asia business unit has been distributing TSplus products in the whole Indian Peninsula, from Sri Lanka to Pakistan and Bangladesh, and it is in India that its success is the highest.
With its 1.4 billion inhabitants and a high percentage of tech-profiled professionals, India is the second biggest market for IT services and products in the World after China.
Unlike its giant neighbor, India is relatively easy for western companies to operate in since the English language is largely used in local business and especially in the IT industry.
TSplus' key to success in this region is two-fold: its line of products offers complex technologies packed in easy-to use tools, and it carries an extremely competitive price range!
The next phase for 2022 is to maximize their existing market position and accelerate TSplus sales specifically in India by creating a local subsidiary with a dedicated management and operations team.
This ambitious project started at the beginning of the year and is ready to kick off.
Henri Merlin, Business Development Director at TSplus, traveled to India in January to lead the mission and has told us a bit more about it.
TSplus India has the Potential to Grow Big over the Next Few Years
TSplus India Private Limited was born last month and already has a face: Rohit Bhat has been hired as Managing Director of the new Indian expansion project. His mission in the upcoming months is to create the local structure and hire an operations team to support him in the expansion of the Indian market.
Rohit is a great candidate for the job and there is no doubt that he will brilliantly fulfill his objectives. His commercial profile is backed by his studies in IT and his expertise in the software industry. Rohit also has a track record of developing business for western organizations in India.
Beginning April 1, Rohit will quickly recruit Support and Sales agents to develop TSplus India leads and manage after-sales inquiries.
Henri Merlin is very positive about TSplus India's potential to grow:
"We are thrilled to enhance our effort to address such a massively promising market! Our experience in India shows that IT professionals are very keen to partner up and become TSplus brand advocates.

This huge potential, blended with Rohit's experience and our current strong presence will, for sure, turn out to be a very important milestone in TSplus' worldwide development!"
IT professionals interested in becoming a TSplus partner in India can contact rohit.bhat@tsplus.net.
All TSplus applications already exist in English and Hindi - other languages will follow if necessary.
To download and test TSplus Remote Access and add-ons with a full-featured 15-day trial version, visit the website.
Source: TSplus Corp
Share: