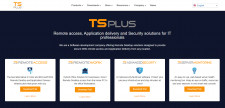 On Monday, May 3, TSplus updated its corporate website tsplus.net with a fresh new look. The redesign has been in process for the last three months, with one objective in mind: presenting the new range of TSplus software for Remote Access, Cyber Security and Network Administration, in a clear and professional way. The new TSplus Website is aimed to strengthen TSplus company brand recognition as a worldwide technological leader in remote access solutions for IT professionals.
IRVINE, Calif., May 12, 2021 (Newswire.com) - More than a Brand, a New Milestone in Remote Access Technology
www.tsplus.net has been around since the beginning of the TSplus Remote Access success story. The presentation of the website has been updated, refreshed, fixed, improved many times since 2010, and for 12 years it has been visited by millions of TSplus customers.
For the past five years, TSplus has undergone major reorganizations, driven by an exceptional growth. To support this fast development and affirm its international place as a real worlwide market player in the Remote Access Industry, the company has been through a series of brand realignments. Recently, the new branding strategy has been affirmed via an official announcement to reveal harmonized product names, logos and icons forming a complete ecosystem of solutions for Remote Access, Cyber Security and Network administration.
The next logical step is to reflect these changes within a new corporate website that clearly presents TSplus and its consistent range of IT products.
tsplus.net has been redesigned to be an attractive, intuitive and responsive platform. Allowing easy navigation via sections with colorful graphics, the pages display key information in summaries, introducing products with well delineated lines.
Cross linked from the corporate website, each TSplus product has its dedicated domain name and website, where visitors can dig into details of features, benefits, installation process and guides in a minimum of clicks.
Olivier Benoit, the President of TSplus, commented:
"Offering a new website to our visitors is a wise decision. As a Software Editor, we want to deliver the best user experience on all devices and show that we constantly look at new ways to share our innovations."
A Growing Family of Remote Access Solutions
Speaking of innovations, one of the reasons for rethinking the website is the upcoming introduction of an expanded product line. The range of TSplus solutions will grow this month with an exclusive product targeting a whole new market, yet still related to TSplus' expertise in remote access technologies.
TSplus Remote Support will offer an alternative to Team Viewer, LogMeIn or GoToMyPC. It will deliver an excellent solution for remote assistance, windows session sharing and PC remote control. It's an exciting new product and deserves its own website!
Server Genius, the Monitoring and Reporting solution developed by TSplus five years ago, has been completely redesigned to extend its features and benefits and to provide RDS systems administrators with a smart, always-available tool to keep track of their servers and their remote user activities. Its new major version will integrate a number of improvements which will be published soon in a dedicated website following TSplus' new branding strategy.
Visitors who wish to purchase any of TSplus products will have all of them available in the new website Store page and will have the option to add each of them in their basket to benefit from an optimized remote access experience, home working remote desktop, web access, cyber security, server administration, screen sharing and efficient remote support.
Stay tuned for further news! Visit www.tsplus.net
Or Downoad TSplus Remote Access and try the others products for free during 15 days.
Source: TSplus Corp
Share: