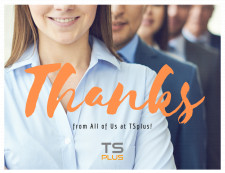 The internet has evolved to be a forum where consumers evaluate products and services based on impressions and feedback from other like-minded consumers. TSplus wishes to strengthen its credibility by calling its numerous satisfied customers to share their positive experiences with the world and be that one gold nugget someone needs to give a go to its solutions.
IRVINE, Calif., July 22, 2021 (Newswire.com) - Online reviews bridge the gap between traditional word of mouth and a viral form of feedback that can influence consumer opinions.
Building Trust and Loyalty Through Customer Feedback
Comparison websites, customers testimonials and case studies are great ways to provide and ensure trust in a product or a brand. Whether it is to find specific information, better understand the benefits, or confirming a purchasing decision, the recommendation from the community is often what tilts the scales in favor of a product rather than another. Customers are also craving knowledge from first-hand experiences and love watching videos relating product or service-based success stories.
TSplus has worked hard during the last six months to create spaces for partners and customers to express their opinion about the various software and services offered by the brand. To gather relevant customers reviews, different strategies and tools have been implemented:
● TSplus has created detailed profiles on a series of comparison and reviews websites to present the company and the products, including: Trustpilot, Google, G2 Crowd, SourceForge, Capterra, SpiceWorks...
● Customers opening a ticket on TSplus' HelpDesk are invited to share their feedback regarding the Support Service via one of the above-mentioned platforms
● Clients and partners receiving the TSplus Newsletter email get a direct link to leave their review
● An account has been opened on Testimonial.to to allow customers to leave a review under the form of a short video or text message. TSplus' employees themselves have complied with the exercise to give an idea of the company's spirit and values.
● A "References" page has been added to tsplus.net's menu to publish case studies and recommendations of all kinds for visitors to consult quotes, awards, and press articles. Customers and partners have access to a rich source of information and can share their own experience via the Testimonial website.
Giving a voice to customers is critical to building a long-term meaningful relationship!
Using Customer Feedback as a Valuable Source of Inspiration
Collecting authentic customer opinions is also crucial to getting insights on how to best refine marketing and communication strategies, upgrade features and improve the after-sales and technical services.
It is a fantastic opportunity to grow a business by encouraging people to interact with the company and build a relationship with the brand.
TSplus' care for its customer expectations is reflected in every step of its service to create the best experience. The Dev and Tech teams take time to analyze comments and requests left by customers to understand what is working well and what can be improved.
And it is paying off. Today, after six months of campaigns, TSplus has improved its brand visibility and is proud to benefit from a nearly 5 star ranking on Google, standing shoulder to shoulder with more established competition. This score is supported by hundreds of reviews from different platforms and regions of the World and a few awards.
This is an acknowledgment of the quality of TSplus software and services and an encouragement to continue investing and innovating to keep bringing the best to customers.
TSplus will not stop here. The software developer wants to further increase its customer engagement and is calling the entire community to tell the world what they think of TSplus.
Leave a Testimonial and help TSplus to be known by greatest numbers: https://testimonial.to/tsplus2
To learn more about TSplus range of Remote Access software, visit www.tsplus.net.
Source: TSplus Corp
Share: