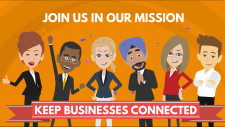 TSplus is calling on software resellers and managed service providers to join the TSplus Family
IRVINE, Calif., September 23, 2021 (Newswire.com) - The United States is the Fastest-Growing Market for TSplus Solutions: TSplus International is headquartered in France, but this has never been an obstacle to the Remote Desktop software company's success across the Atlantic. From the start, the U.S. market has been a major contributor to TSplus worldwide revenues. Although TSplus kicked off its international sales over 10 years ago in Australia, North America quickly became the most dynamic and fastest-growing business region.
With a 1-year-old fully incorporated U.S. subsidiary, TSplus is continuing to expand its reach by growing its pool of partners and resellers. Based in Irvine, CA, TSplus Corp continues its philosophy of 'Think Globally - Employ Locally'.
Every expansion requires dedicated staff with local market knowledge. TSplus knows that and has staffed the U.S. business arm with local resources dedicated to local sales, support and regional accessibility.
TSplus Is Calling for New Resellers to Join in the USA
TSplus business growth is based on an ever-expanding network of IT resellers and integrators worldwide. The strategy for the USA is to increase brand visibility in order to recruit new quality sales and service partners ready to promote TSplus Remote Desktop Software products in the U.S. market. With a rapidly growing number of reliable professionals to recommend TSplus, the brand reputation and market shares will grow.
Below is a short video that talks about the TSplus Partner program and some of the benefits of joining.
The company is looking for quality IT vendors and resellers to participate in the great Partners Program, which includes the following benefits:
Generous Discounts
Extensive Technical Support
Marketing Materials & Tools
Preview and Beta-Testing of New Releases
Interested in becoming a TSplus official reseller in the U.S. or Canada? Contact TSplus today at sales@tsplus.net for more information.
Or Download and Try any TSplus Product Free for 15 days.
Source: TSplus Corp
Share: