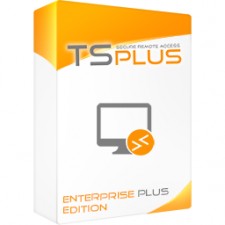 TSplus is a scalable and customizable remote access solution for companies of all sizes and needs. The developers at TSplus have made the strategic decision to add a new edition to the four editions already available. Introducing TSplus Enterprise PLUS. An Enterprise level offering that includes all the great TSplus features and add-ons in one attractive and affordable package.
PRAGUE, May 20, 2020 (Newswire.com) - ​​​TSplus is the adaptable remote access solution.
TSplus - the remote desktop and application publishing software - already exists in four editions to meet all types of needs:
System: Delivers the core features of TSplus. Publish Windows applications and make them accessible over rdp or remoteapp to an unlimited number of connected users.
Printer: Adds the flexibility to print any file from a TSplus remote session to a local printer with the Universal Printer.
MobileWeb: Leverages HTML5 technology to enable application publishing on a customized web portal, accessible from anywhere with any device - just using a web browser.
Enterprise: Simplifies network administration for large organizations, with great management tools for servers farm, load-balancing and secure RDP gateway.
To complete this attractive panel of offers, the TSplus range also includes four Companion Tools. Each edition can be enhanced with one or several of the following products to ensure optimal security, reliability and efficiency:
TSplus 2FA: Require external authentication codes before granting connection the the web portal
TSplus Advanced Security: Enforce up to seven protections that will keep servers and users protected during remote sessions
TSplus Virtual Printer: Enable fast, secure and seamless remote printing to any local printer when using TSplus generated client or remoteapp.
TSplus Server Monitoring (former ServerGenius): Monitor servers, websites and remote sessions and get specific data reporting to improve network management.
No matter the network infrastructure, the number of users, the location or the budget, TSplus has a solution that can fit and be deployed the most optimized way.
The Ultimate Remote Access Package: TSplus Enterprise PLUS
Today, TSplus is available in a new Edition, Enterprise PLUS. No longer will organizations need to choose between security and management. The TSplus full product line is offered in an attractive bundle.
With the suite of Companions Tools installed alongside TSplus Remote Access, administrators will benefit from a comprehensive multi-tool to easily deploy and manage their network infrastructure.
All included in one single setup, the multiple applications automatically integrate into TSplus Administration Tool for an easy and centralized management. It is the ultimate remote access solution for Windows, Mac, or Linux.
And it is affordable. Prices start from 720$/server. Per user cost declines as the number of users increases.
Visit the TSplus Store page to purchase TSplus Enterprise Plus.
Or download the TSplus Free Trial, which also includes a trial of each Companion Tool.
Source: TSplus
Share: