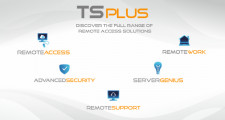 Remote offices are here to stay. TSplus offers cost-effective, long-term solutions. Read on to find out some factors to consider.
IRVINE, Calif., August 5, 2021 (Newswire.com) - Over 75% of businesses had to transition to working remotely over the past year. Besides concerns regarding the ongoing pandemic, the way we work has been revolutionized by work-from-home arrangements. As businesses start to see that it can work, work arrangements may become a combination of on-site work and remote working in the near future.
Budgets Are Important
Many businesses signed up with expensive, subscription-based remote access services. As a short-term solution, this path offered a quick way into the world of remote working. However, for long-term budget planning, subscription licensing is often both costly and complicated.
TSplus products share the common characteristic of cost-effective perpetual licensing. Once purchased, a TSplus license is owned forever. Combine that permanent ownership with sensible upfront costs, as well as a wide range of choices in Remote Desktop, Application Delivery, Security and Support products - and TSplus begins to look remarkably interesting to organizations looking for smart investments in Remote Access infrastructure.
Security First
This may seem obvious but cannot be emphasized enough: security is of the utmost importance in a remote access solution. You are letting people outside your firewall, such as vendors and third parties, access your corporate network and confidential information. This can make your information extremely vulnerable to hackers. TSplus Advanced Security is an award-winning cybersecurity suite that enables companies to maintain tight control over who may access their servers. With robust access control through Geography-based IP management, working hours restrictions and brute force attack defense, Advanced Security is an impressive security multi-tool. Add in the intelligent ransomware protection and TSplus Advanced Security is the obvious choice for keeping any remote access environment safe.
Remote Access that Grows with the Company
Another key factor to consider is scalability, especially for rapidly growing businesses. How many employees does your business have? How many users will require access? If you anticipate your business expanding in a few years, make sure any remote access solution you choose will grow alongside it. TSplus Remote Access offers enterprise-level scalability. An integrated farm manager makes it a breeze to manage a fleet of servers from a single location.
To learn more about the TSplus family of products, visit the website at https://tsplus.net
Source: TSplus Group
Share: