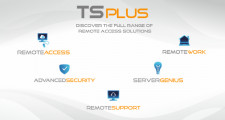 Working from home offers companies and staff plenty of benefits, but it also opens the door to cyberattack risks. Find out how organizations can reduce those security risks.
IRVINE, Calif., July 8, 2021 (Newswire.com) - TSplus Remote Access offers scalable and reliable Remote Desktop and Application Delivery. TSplus Remote Work gives workers a direct pipeline to their office PC. TSplus Advanced Security keeps it all safe.
The COVID-19 pandemic has upended life in many ways, one of which being the shift to working from home. The increased number of employees working remotely has led to a dramatic rise in companies providing some form of remote access to their staff.
Every digital work-from-home strategy comes with some inherent risk. IT personnel may find it challenging to manage and secure devices used by remote workers. Security breaches can come in many shapes and forms, including brute-force password attacks and ransomware. It is therefore extremely important that organizations stay aware of the risks and take precautions to prevent cyberattacks on remote users and their connections.
Educating Staff on the Importance of Strong Passwords
Many people are in the habit of reusing passwords across many different platforms on both their personal and corporate devices. While reusing or repeating passwords may be initially convenient and easy to remember, it also increases the risk of getting hacked. Multiple devices and systems can be compromised when an unauthorized user gets access to a password. IT staff and security teams must emphasize the need for employees to use strong and unique passwords.
Combined with Advanced Security's Brute-Force Attack Protection, a strong password is the first step to a safe virtual environment. Implementing Two-Factor Authentication or web page security certificates (SSL/TLS) are additional ways the TSplus suite of Access and Security tools can help companies protect themselves from cyberattacks and security breaches.
Ensuring Visibility for the Network Security Team
Some security teams don't have sufficient visibility into remote users' activities, which makes them unable to detect advanced threats or identify when attackers enter the network from a user's machine.
TSplus Server Monitoring is the answer. Sever Monitoring uses a simple web interface to give Administrators important real-time data about server health and user activity. Easy-to-read reports and Administrator notifications are just a couple of the ways Server Monitoring makes it easy to keep your servers running in top form.
TSplus is committed to helping clients combat remote access security threats while providing them with the most secure remote access system on the market. All TSplus products are available for download as fully featured 15 day/5 user trials. Check out the TSplus website to learn more and download the free trial software.
Source: TSplus Corp
Share: