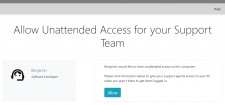 This week, TSplus is excited to announce the addition of a long-awaited new feature. Coming with the official release of version 2 of TSplus Remote Support software, support agents will now be able to use Unattended Access to improve the support experience for their end-users.
IRVINE, Calif., November 4, 2021 (Newswire.com) - With businesses becoming more globalized and workforces working remotely, there is an increased need for remote access solutions to aid in efficiency and productivity. TSplus Remote Support allows employees to gain access to IT specialists who can easily and speedily provide the help needed without being on-site.
Unattended access, also known as unattended remote access, is a way of accessing devices remotely, even if the device is not being used. Today, TSplus is proud to add this essential feature to its already extremely attractive Remote Support software.
Introducing Unattended Access for Remote Support
Unattended Access enables set up of a remote support session quickly with computers located anywhere in the world without the need for end-user interaction.
How does it work?
From the web interface of Remote Support V2, Support agents can now see a new "Remote Computers" section where they are able to add and manage unattended computer access in a list.
Agents can click on "Connect" to take control of a machine, even when there is no open session.
There are multiple ways for an agent to add a computer as an Unattended Remote Computer - adding the computer currently under use or generating a unique URL to require access from the customer.
This URL is specific to each agent and makes Unattended Access configuration easy and user-friendly using a simple web page. It opens a page where the customer can enable unattended access by clicking on the 'Allow' button (it requires admin privileges).
Making Support Easier
For better efficiency, Unattended Remote Computers can be organized by groups (computer and groups can be simply moved from one group to another using drag and drop) and removed and made unavailable in a simple click. Agents can also send command prompts to the available Remote Computers (the list auto-updates).
To know more, consult the online TSplus Remote Support documentation.
With comprehensive unattended access support, Remote Support agents can work with confidence. They can manage any Windows computer, no matter where it's located, and provide instant solutions if a system needs troubleshooting.
Remote Support V2 Offers Flexible Session Sharing Options
In addition to the earlier method of sharing the connection links, Remote Support V2 introduces two new ways to start Session Sharing with the customer:
Sending the URL via email by adding your own SMTP server.
Or sending instead an individual connection ID that the agent can easily generate from the interface. The connection ID is a 6-digit code to be entered by the end-user after having manually started the Remote Support client.
Remote Support offers more flexibility and security to both the remote support teams and their end-users.
Smart Look and Feel for the Remote Support Interface
Last but not least, TSplus Remote Support Version 2 comes with a series of ergonomic improvements, as a response to customer feedback and requests. The goal is to make Remote Support management as quick and easy as possible, so that support agents can spend more time providing help to their end-users than dealing with their professional remote support tool.
Several new buttons have been added to the interface to enable direct access to some new settings and customization options:
Configuring an SMTP server and sending the URL by email
Shortening the URL in a click
Accessing the "Session logs" section which can be easily exported to csv file.
Copy & Paste information with just a selection and right click.
The chat box itself offers a lot of features, including some of these additions: Language selection (in "settings") and "Send ctrl+alt+del" keyboard command.
In the same spirit, the end-user can install a shortcut to the Remote Support Session Sharing webpage on their desktop and Start Menu for quick access.
TSplus Remote Support V2 can be downloaded for free (15 days, five agents) directly from the website: https://tsplus-remotesupport.com/,
Prices start at $250 for five agents.
Pre-requisites: TSplus Remote Support is compatible with most Windows OS and servers.
Source: TSplus Corp.
Share: