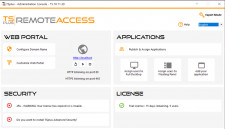 TSplus is thrilled to announce the official release of the new major version of Remote Access software: Remote Access Version 15 comes with a brand-new setup and a Lite Administrative Interface that enables first-time users to easily begin using the application's most valuable features.
IRVINE, Calif., December 9, 2021 (Newswire.com) - When it comes to remote access or remote desktop software, it is often the complexity of the implementation and deployment that scares inexperienced organizations away from using them. TSplus, a leading developer of secure remote access solutions, has tackled the complication of setting up and running a Remote Access environment with the release of TSplus Remote Access Version 15.
Understanding how to publish applications, secure servers and manage a whole network of remote devices takes some time. The developers at TSplus care about making easy-to-use tools and decided to offer a simplified version of the Remote Access administrative interface. Remote Access v15 has been streamlined to highlight the most valuable features, and has been broken up into four high-level control panels.
Web portal: Configure a domain name and build a customized web application portal
Applications: Publish and assign applications to users and groups and allow them to connect in numerous ways
Security: Add 2FA to secure the web portal or/and install the TSplus Advanced Security software
License: Displays license status and offers a path to purchase or upgrade the license
This fresh look makes it much easier to understand how powerful TSplus Remote Access is during the 15 day free trial.
Inexperienced users will no longer spend time digging through multiple levels of settings to find what they are looking for: A smart and powerful software to publish applications over the Internet and make them accessible on any device.
In addition to this new interface, the setup also displays a modern look-and-feel that tells the user right away what to expect from the Remote Access. From network management and enterprise features to mobile access and remote printing, the installer guides the user through a short series of Remote Access highlights in a few seconds.
TSplus Advanced Security software has been redesigned following the same logic.
Of course, it is always possible to switch to the "Expert" mode to access all the administration tools. At any time and with no extra cost, the user can click on the "Expert mode" button in the top right corner of the AdminTool and find all the options and tools available to build a custom remote access infrastructure.
TSplus Remote Access V15 is also packed with all the latest updates and newly added features from the previous releases.
As part of these improvements, users will find that their feedback has helped to enhance the virtual printer, the RemoteApp and the security options available for the web portal.
To know more, check the online changelog.
Download Remote Access V15 15-day free trial from the TSplus website and enjoy the new Lite mode.
Source: TSplus Corp
Share: