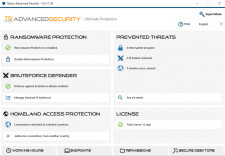 TSplus recently released a new version update to its remote desktop security software, TSplus Advanced Security. Version 6 comes with a brand-new setup and a Lite Administrative Interface to quickly show first-time users how easy it is to secure their servers.
IRVINE, Calif., February 3, 2022 (Newswire.com) - It is no news that Remote Access Technologies are an attractive doorway for cyberattacks. In a time where it has become mandatory for businesses to enable remote connections to their servers and data, this powerful tool needs to be used with the right precautions.
TSplus Simplifies Remote Access Security
TSplus, a leading developer of remote access software, brings a unique response to the many potential risks with Advanced Security: a powerful cyber-security program specifically designed for remote access security. Thanks to a panel of seven complementary features, it enables 360-degree protection for remote connections and environments, keeping remote work safe for everyone.
Advanced Security gathers all the best cyber security practices for Remote Desktop in one user-friendly, cost-effective tool. The objective is to make it easy for Administrators to set the best level of security for their network as quickly as possible and immediately see the results. Advanced Security Version 6 simplify the administrative interface even more with the with the introduction of the ability to toggle between Lite mode and Expert mode. It highlights the most popular features, and has been broken up into five high-level control panels:
Ransomware Protection: Detect and stop ransomware attacks
Brute Force Defender: Prevent malicious bot connections by blocking IPs
Homeland Protection: Limit connection based on geography
Prevented Threats: Shows the list of blocked attacks and suspicious IPs
License: Displays license status and offers a path to purchase or upgrade the license
The four tiles at the bottom of the screen offer even more way to enhance server security with additional protections: Working Hours limitation, EndPoint access restriction, Permissions management, and Secure Desktop wizard.
TSplus offers a fully functional 15 day free trial of Advanced Security.
Inexperienced users will no longer spend time digging through multiple levels of settings to find what they are looking for: A feature-rich and powerful software that provides the fundamental protections every remote server admin needs, and more.
In addition to this new interface, the setup also displays a modern look-and-feel that guides the user through a short series of Advanced Security highlights in a few seconds.
Of course, it is always possible to switch to the "Expert" mode to access all the administration tools. At any time and with no extra cost, the user can click on the "Expert mode" button in the top right corner of the AdminTool and find all the options and tools available to further customize their remote access protection.
Download Advanced Security V6 15-day free trial from the TSplus website and enjoy the new Lite mode.
Source: TSplus Corp
Share: